I was born, as all good autobiographical notes say, at a very early age. This happened in December 1952, apparently in the middle of the last great London smog, though my birth took place in the small town / village of Bushey in Hertfordshire. At that time, Bushey was home to the Middlesex County Maternity Hospital, an establishment which was later forsaken by the NHS and became a private hospital. I've sometimes wondered whether my association with the place, brief though it was, may have encouraged them down this road.
In those distant days, it was the norm for mothers to remain in hospital for some days after a birth so I was there for long enough for the nurses to gain an insight into my future - I was, apparently, deemed to be 'perfectly formed' and bound to be a great success in life. Oh well, everyone gets it wrong sometimes.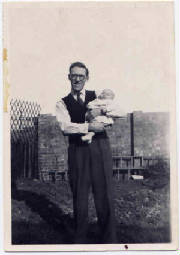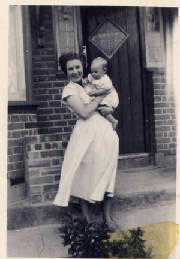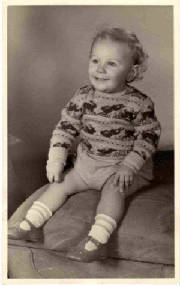 Me, aged 1
My first home was my father's parents' house in Turner Road, Queensbury, outside the front door of which I'm pictured with my mother (
above left
) and in the garden with my father (
above right
), but we soon moved to a terraced house near Wealdstone where we remained for the next decade. During this time, my little brother arrived, though he was born at Edgware General suggesting that Bushey had already lost its attraction. Sometime in the mid-1950s an aunt noticed that I appeared to have something wrong with my right eye and, following investigation, it was found that I had what was then referred to as a 'lazy eye'. This resulted in my being fitted with glasses, old-fashioned NHS ones that is, at the age of about 3½, and being admitted to Moorfield's Eye hospital in the winter of 1957/8 for a corrective operation. This was the winter of 'Asian flu' and it wasn't long before I found myself as the only resident of a long ward; according to my parents, there was only one nurse looking after 3 wards as the rest were off sick but I can't believe this was really true. Due to the epidemic, I was discharged home earlier than I should have been but, oddly, didn't actually get the flu myself. The time in hospital did delay my entry into school, but because of my eyes, my mother had been encouraged to make me read and I was probably at least as well advanced as those children who had started at the normal time; I began at Priestmead Infants' school in Kenton in January 1958, whereas the rest of the class had started in the preceding September. I still had to wear glasses, though, and do to this day, though no longer NHS issue.
School was something that I enjoyed and life in general, as far as I can remember it, was reasonably comfortable though I'm sure today's younger generation would consider it to have been harsh in the extreme. Naughtiness resulted in my mother chasing us around with cane in hand and back chat was simply not an option; we had no central heating and, in the winter, relied on dad getting up at an ungodly hour of the morning to stoke up the fire in the living room in order to put some heat into the house. It was not unusual to find ice on the INSIDE of the windows on cold winter mornings. In the particularly horrible winter of 1962/3, I remember getting up early myself to listen to the live test match commentaries broadcast from Australia and sitting wrapped in a dressing gown while trying to pick up the crackly words on our large old fashioned 'wireless'. This was a big wooden box affair with a glass display panel that glowed orange, and twiddly knobs on either side to adjust volume, tone and tuning; if the knobs were twiddled just right, the sounds from Australia drifted in an out, almost as rapidly as did the English batsmen.
Later in 1963 we moved to a new home on the very outskirts of Stanmore, at least the postal address was Stanmore, which was posh, but the real location was Belmont, which was not. I was then still at my junior school, Priestmead, where I was definitely the cleverest boy; this was confirmed by my position in the top seat in the top class and also by my elevation to prefect and effective head boy, though the status actually counted for very little. The following year saw me pass the '11 plus' as a matter of course and then rather stupidly refuse the chance of going on to a good semi-independent school in favour of staying with my friends who where off to the local grammar; my headmaster, and parents, were apparently keen on the idea of Merchant Taylors' while I opted for Harrow County. That I was probably right in my choice was subsequently confirmed when I ended up the first year at secondary school only 3rd in my class and 11th in the year, a result which both I and my parents found somewhat disappointing. That most of those above me ultimately found their way to Oxford or Cambridge is no consolation.
Putting my distress behind me, I embarked on the second year in the top class and determined to do better. I make no apolgy for mentioning that my classmates included some who went on to great things - Michael Portillo and Clive Anderson are well known and (Sir) Nigel Sheinwald is current UK Ambassador to the USA. In another class was Geoffrey Perkins whose name may be unknown to most but to whom we owe thanks for many classic comedy shows : Hitch-hiker's Guide, I'm Sorry I haven't a Clue, Have I got News for You, Spitting Image and The Royle Family among them. Geoffrey was to become Head of Comedy at BBC Television but, sadly, died following a road traffic accident in 2008. Several others that I know of also achieved considerable success and I have no doubt that many I can barely remember profited too; where I went wrong, we will come to in due course.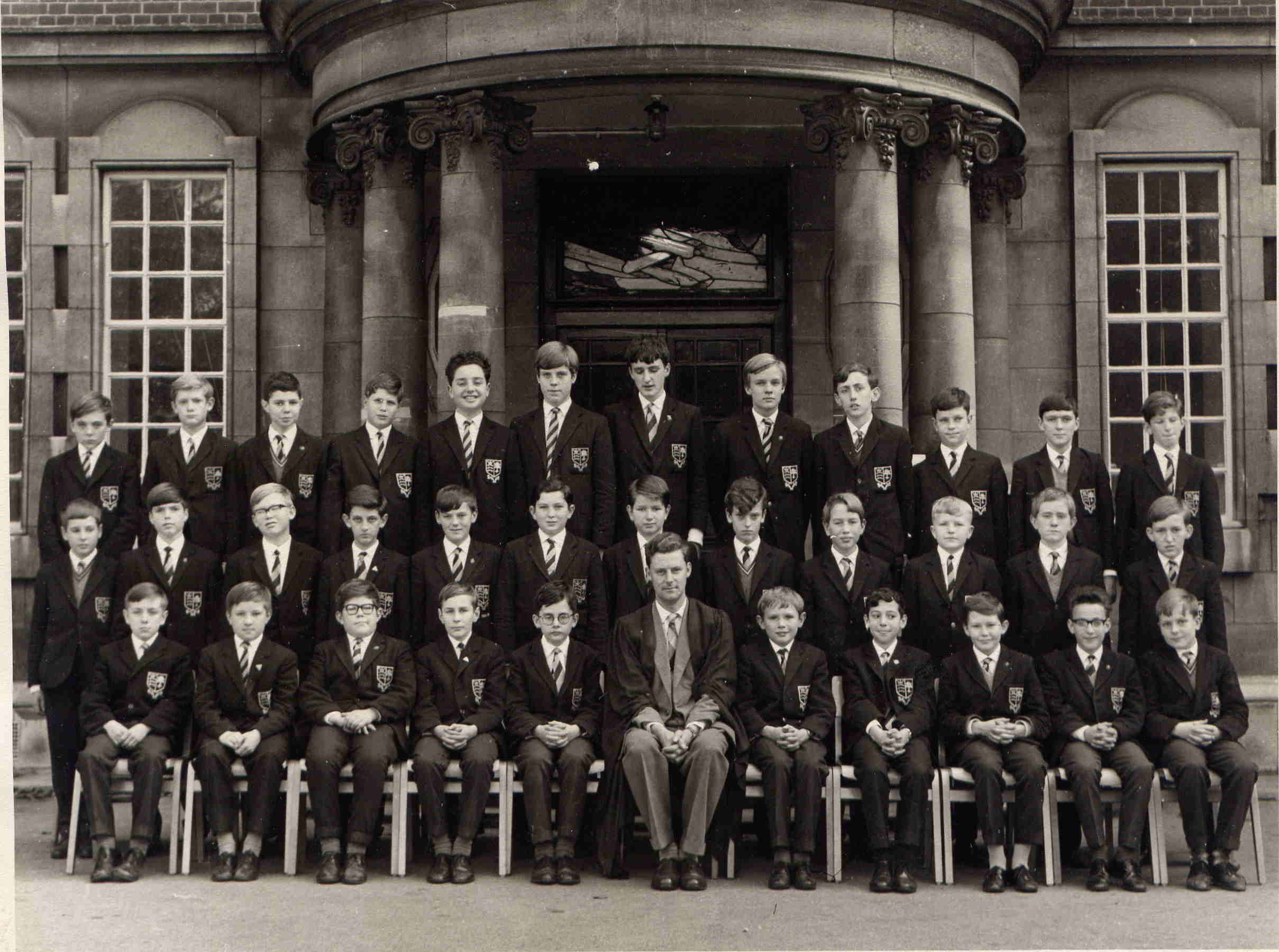 Form 2A at Harrow County taken, I believe, in about December 1965; Clive Anderson is 3rd from the right in the middles row, and Michael Portillo on his immdeiate right; Nigel Sheinwald is 4th from the left in the back row. The class also includes at least one NHS Trust Chief Executive and a Consultant Surgeon, as well as myself, sitting very quietly 2 places to the left of the Form master, 'Boggy' Marsh.