THE STORY OF THE HORNETTs
**PAGE UNDER CONSTRUCTION**
INTRODUCTION
Hornett is a relatively rare name of indeterminate origin. It is suggested that it is a variant of the patronymic Norman-French name 'Arnold' but it may also be derived from villages named Arnold in Yorkshire and Nottinghamshire. The patronymic 'Arnold' is claimed to be of Germanic origin, composed of 2 elements, 'arn' meaning 'eagle' and 'wald' meaning 'rule', while the place name derivation is believed to be from Old English, 'earn' meaning 'eagle' and 'halh' meaning 'nook' or 'hollow'. There are said to be many variants of the name, including Arnott, Arnell, Arnaud, Harnett and numerous others. There is a family story to the effect that the Hornetts actually originated as Huguenot refugees from France, a claim that could be supported by the Norman-French derivation of the name.
My own Hornett's are the family of my paternal grandmother; she was Kate Ellen Hornett, born in Holborn, London, in 1895. She was also the only one of my grandparents to survive long enough for me to be able to talk to them about their family background. This I did in the late 1970's, when I made copious notes and drew up an outline tree from what I'd learnt. I then promptly mislaid all the information I'd gathered and it didn't resurface until the end of 2011, when I was clearing out some old books and papers. Amazingly, I was then able to confirm several elements in my tree from what my grandmother had told me all those years ago.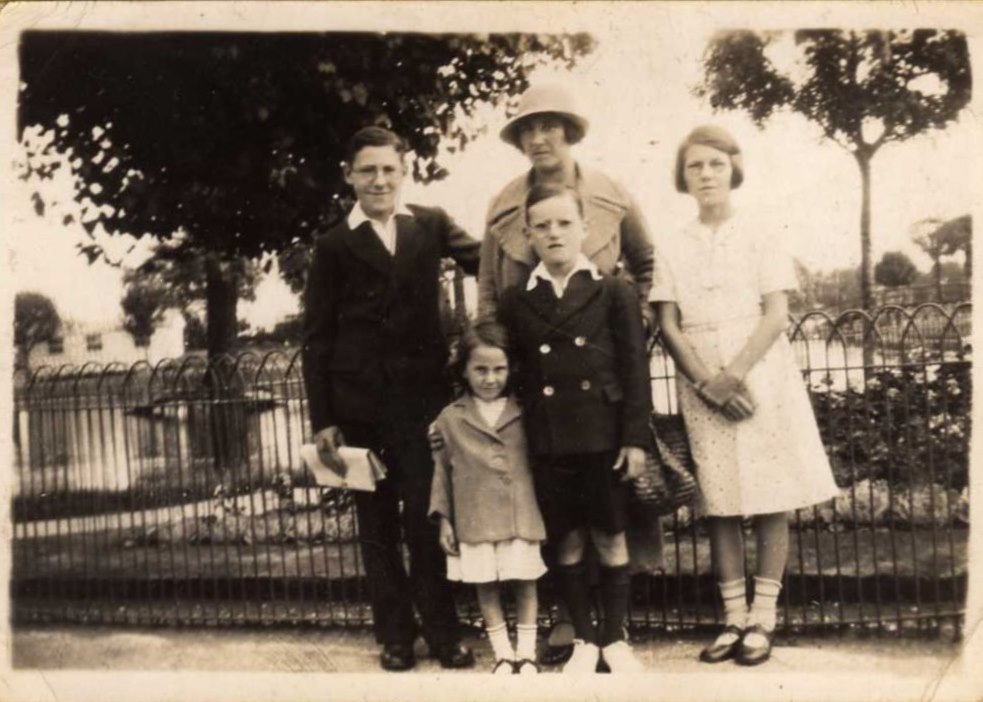 Kate Brown, née Hornett, with children, (l to r) Leonard, Rosie, Charlie and Kath in about 1935.
Kate married my grandfather, William Percy Brown, in 1920 and had four children between 1921 and 1931. The eldest of these, Leonard, was my father but both he and his brother, Charles, and their sister Kathleen have now died; my remaining aunt, Rosie, lives in the west of England where she's been for a good number of years. Kate herself lived to a great age, only dying in 1991 aged 96 and outliving her husband by almost 25 years. She was an indomitable soul and a remarkable character who took life in her stride and was greatly loved by her whole family.
HORNETT HISTORY
My Hornett line goes back to Charles Hornett who was probably born in about 1805, and probably in London. Charles' origin has proved to be difficult to confirm as he does not seem to have any obvious link to any other Hornetts; he may have been the illegitimate son of a Charity Hornet (sic), born in St Pancras in December 1806, however, this is mere conjecture. The three censuses that include Charles all record him as being born in London and give an age consistent with him being born in about 1806, however, his death certificate suggests an earlier date of birth in about 1803. There is a slight indication that Charles' may, indeed, have been Charity's son as an LDS church record based on information provided by Charles' brother-in-law, Cornelius Traveller, included reference to an Ann Charity Hornett, although this was probably from details provided in the 1890s and quite possibly subject to faulty memories.
While there is no clear evidence to support the supposition that Charles was a son of Charity Hornet, no other obvious candidate for him has been found. A Charles Hornet was baptised in Enfield (north London) in April 1803, but he probably died at a young age as his parents seem to have had a second child named Charles baptised in 1814 and the older child does not obviously appear in later records. Unfortunately, the same is true of Charity Hornet, certainly after 1813; she quite probably married a James Nash in St Pancras in March 1807 and this couple may well have had a daughter, Sarah Frances Ann Nash, who was baptised in St Marylebone in April 1813, but this is the last record of any of them yet discovered.
Charity Hornet's own origin may have been in the Hertfordshire village of Cottered where a child of her name was baptised in April 1779, her parents being John Hornet and Sarah, who was probably born Whitby. This Charity Hornet seems to have had an illegitimate child, William Lowe Hornet, baptised in Cottered in August 1801, although the father was named as William Lowe, suggesting that the couple intended to marry later. This occurrence could indicate that Charity was not averse to an extramarital relationship and that the Charles Hornet born in 1806 was actually a child of James Nash, although there is no real evidence for this. William Lowe Hornet has also proved elusive in later records.
A further complication is the family belief that the Hornetts were actually of French origin, a belief which is compounded by an entry in the 1920 US census for George Hornett, son of Charles, which indicates that Charles was of French origin and spoke French as his first language. This is the only entry of this type as George consistently gave his father's birthplace as 'England' in all other censuses; whether there is any truth in this entry or it is simply an enumerator's error is a question that has yet to be answered.
My grandmother, Kate Ellen Hornett, certainly expressed her belief in the story of a French origin, as have several other members of the family. However, none of these fragments of family lore claim any more than that the family has French roots, possibly huguenot in origin. It is the case that the Hornett clan in Cottered seems to appear in the mid-18th century, and was very limited, although many others with similar names have been found in the surrounding area. If the Hornetts were of French origin, it could be that a few moved to Cottered after initially settling elsewhere in the area, although this is simply more supposition at this stage.
Whatever his origins, Charles Hornett married Elizabeth Atkins and they had 9 children; the story of each is told via the links below :