THE STORY OF CORNELIUS TRAVELLER : 1819 - 1904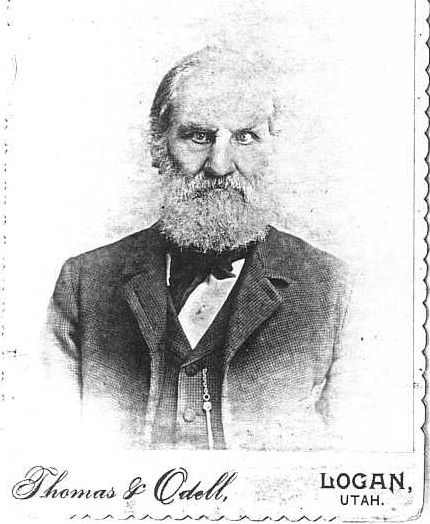 Cornelius Traveller pictured late in life

CORNELIUS AND ANN ELIZA ATKINS

Ann Eliza Atkins was the youngest sister, and sibling, of my ggg grandmother Elizabeth, born in London on 27th July 1820 and baptised in St Marylebone on 30th August in the same year. Ann Eliza's birth date is confirmed by an entry in the family bible although her baptism was not mentioned. Her mother, Sarah, died when Ann was only 6 years old and her father remarried a couple of years later; what life was like is hard to imagine, although Ann's father seems to have been in a reasonably good job with the Excise Service.

Ann Eliza is not mentioned again in any known records until her marriage to Cornelius Traveller in August 1840. Ann Eliza was then living at 20 Featherstone Street, St Luke's, and her father was recorded as being John Atkins whose occupation was recorded as 'Excise Officer'. Cornelius had been born on 29th September 1819 and was baptised in Marylebone on 7th November, although some sources, including his own memoire, state, erroneously, that these events were dated in 1820. At the time of his marriage, Cornelius gave the same address as his bride and was a cabinet maker, his father being Thomas Traveller who was described as being a printer.

Cornelius' background was rather different to that of Ann Eliza. It seems that he came from a strongly religious family, his parents apparently becoming missionaries in India. Although his father had been described as being a printer when Cornelius married, he died in Madras, India, in 1849; his mother, Jane, had died in 1845, also in Madras. What it was that encouraged Thomas and Jane to journey to India is unknown, though it's clear that they made what was a difficult and dangerous trip at some time after the Cornelius' adventures in 1839. Interestingly, Thomas and Jane did not take their children with them; the evidence suggests that Thomas travelled first, before 1841 when Jane was recorded still living in Westminster with three of her children, and that Jane joined him later; Jane obviously didn't survive for long after her own emigration.

Cornelius seems to have had a fairly colourful early life, at least according to his own memoire, written in 1897. He appears to have left home at the age of 10 when he went to live with a certain James Dark, who was a professional cricketer and later became the proprietor of Lord's Cricket Ground; Dark seems to have been a most prominent figure in the history of Lords and, during his proprietorship, the ground was often referred to as 'Dark's'. He finally disposed of the leasehold to the Marylebone Cricket Club, the MCC, in 1864 and they subsequently obtained the freehold, which they hold to this day, in 1866. In recent times, Dark's memory was preserved in the small shop, named 'Dark's' that I remember from my own visits to the ground. Cornelius recalled that he was 'Pavilion Boy' whatever that may have entailed, and also that he became a favourite with the various nobility and gentlemen who then frequented the Club, they giving him many gifts for his assorted attentions to them.

Following his time at Lord's, Cornelius went to work, in 1832, with a butcher in London and then spent time with a grocer. In 1833 he went to school for a while but soon returned to work with another butcher for a time. In 1835, he took up his final occupation, becoming apprenticed to a chair and cabinet maker and seems to have done well until he came under the influence of another employee who encouraged him to run off. Together they travelled to Dublin but found life too hard, so crossed the sea to Liverpool and then travelled around the north of England for a time in search of work. Cornelius eventually found himself alone and exhausted, his clothes threadbare; he made his way to Hull and managed to travel back to London by steamboat, finally being faced with a 9 mile walk to get back home. Fortunately for him, his parents and his former employer welcomed him back and Cornelius was able to complete his apprenticeship, marrying Ann Eliza Atkins along the way.

At the time of the 1841 census, in June of that year, Cornelius and Ann Eliza were living in Great Carlisle Street, Marylebone, Cornelius working as a cabinet maker and Ann Eliza as a dressmaker. Their first child, Sarah Ann, was born at number 69 Great Carlisle Street on October 19th 1841, and four more children were born to the couple over the next 10 years; Cornelius John in February 1844, Jane Caroline in November 1846, Mary in October 1849 and Amy in November 1851. Sadly, Cornelius, Mary and Amy failed to survive childhood, all dying before their 5th birthdays. Cornelius John Traveller was buried in Marylebone on 3rd September 1848 and Mary Traveller on 17th February 1850, with the family's address being recorded as Princess Street on both occasions. This was also the address of Ann Eliza's father, John Atkins, at the time.

Cornelius continued working at his trade until, in 1849, there seems to have been some form of crisis and depression (perhaps linked to the year of revolutions in Europe in 1848 ?), and he found himself out of work. It was at this time that he went into business with his brother-in-law, John Tyler, who had married Ann Eliza's sister, Sarah, in 1844. Initially, Cornelius and John continued to make cabinets, but it was their intention to make enough money to start a floristry business. The family remained living in Marylebone until after the death of their fourth child, Mary, in February 1850, but had moved to the newly developing area of Acton Green by the time of the 1851 census. Here, the partnership rented a house and land, upon which they erected 2 greenhouses, while continuing with what must have been a successful cabinet-making business, employing several men.

The venture between Cornelius and John Tyler did not last for very long, its termination being precipitated by the death of Ann Eliza on 5th August 1853 at the family's then home in Bollow Lane, Acton. Her father made a note in his family bible to the effect that : "Ann Traveller, daughter of the above Mrs S Atkins, died 5th August 1853"; the Mrs S Atkins referred to was John Atkins' first wife, whose death in 1827 was recorded a few lines further up the page. Ann Eliza had died of phthisis, the old term for pulmonary tuberculosis and a serious killer in those days. Ann's sister Sarah Tyler, would die from the same cause only 4 years later, occasioning another sad entry in their father's bible.

Although she died in Acton, Ann Eliza was brought back to Marylebone where she was buried in the grounds of St John's Church, St John's Wood, on 14th August, presumably in order to be near to the 2 children who had predeceased her and possibly also her mother who had been buried in Marylebone 26 years earlier. She was just 33 years old and had seen 2 of her five children die before her, and one can only imagine what a sad time it had been.

CORNELIUS AFTER ANN ELIZA

According to his own memoire written in 1897, after Ann Eliza's death, Cornelius ended his association with John Tyler and moved to Haggerston, where he rented a house and book shop in Marian Square, close to the Hackney Road. Although he rented a book shop, Cornelius says that he recommenced a trade in the fancy cabinet business and was successful, employing 3 men and having plenty of work with which to keep them occupied. It was at this time that he was introduced to the doctrine of the Church of Latter Day Saints by his brother Robert. Cornelius records that this was in October 1853 and that he was immediately convinced of the rectitude of this faith; he was baptised into it at Islington baths on 11th December in the same year and quickly became a Priest, Elder, President of the Sunday School and clerk of the branch.

Sadly for Cornelius, his youngest daughter, Amy, died in Haggerston in May 1854, and was buried there on 28th May, aged just 2; this left him with his 2 surviving daughters, Sarah Ann, then aged 13 and Jane, aged 7. However, following from his conversion to the Mormon faith, he had met Miss Frances Hobbs of the Haggerston branch whom he married on Christmas Day 1854. What the precise impetus for his next move was is not stated, but what is certain is that he sailed to America, with his new wife and 2 children, on the 'Jeremiah Thompson' on 28th September 1855. John Atkins made a poignant note in his bible, recording; "Cornelius Traveller, the husband of my late daughter Ann, married the second wife Christmas Day 1854. Sailed for America in the ship 'Jeremiah Thompson' and took with him my two granddaughters, Sarah Ann and Jane, September 28th 1855". One wonders what were John Atkins' thoughts as he, then a man of almost 70, saw his grandchildren for what he must have known would be the last time; that he noted the event in his bible perhaps gives an idea of what it meant to him.

Cornelius, Frances and the 2 children, Sarah and Jane, arrived in the USA, at New York, on 22nd October 1855; Frances was then pregnant with her first child, Lorenzo, who was born in February 1856. The family remained in New York for only 2 days before moving on to Philadelphia where they set up home; Cornelius found employment with a large furniture company, becoming foreman after a couple of years. Frances gave birth to 2 more children during this period, the first, Lorenzo, dying at age 2 but the others, Frances Lucy and Franklin Hobbs, eventually accompanied their parents to Utah. Sarah Ann, Cornelius' daughter from his first marriage, married William James Coult in March 1859 in Philadelphia in March 1859 and migrated to Utah on 23rd September of that year; Cornelius, together with his wife and children, finally began the same journey on 7th May 1860, according to his own memoire. He recorded that they 'stayed in Florence until June', though he didn't specify where this actually was; it could have been Florence, New Jersey, a town to the north of Philadelphia. They set off across the plains with the John Smith Company in June 1860 and arrived in Salt Lake City on 1st September; they had travelled with their young son, Franklin, who was then 7 months old (though Cornelius states 5 months), daughter Frances Lucy who would have been approaching 2 years and Jane, who would then have been 13. Cornelius wrote that it was a hard time, but added no details, although the notes of his granddaughter, Mabel Pond, record that he made 16 coffins during the trek across country, suggesting that it had, indeed, been a difficult journey of some 2,150 miles.

After this arduous journey across country to Utah, Cornelius initially settled in Salt Lake City where he established himself in business, making furniture. Frances had a fourth child, Emily, in 1862 and the family moved to their final home at Richmond, Cache Valley, in late 1864 where a further 3 children arrived, bringing Cornelius' total brood to 12 by his 2 wives, although 5 of these had died in childhood. His second daughter with Ann Eliza, Jane Caroline Traveller, was married to Peter Christian Christensen in 1865, probably in Richmond though the available records are not specific. Cornelius was granted US citizenship in Great Salt Lake City, Utah, on 17th June 1867; his naturalization record states that he "abjure forever all allegiances and fidelity to all and any foreign prince, potentate, state and sovereignty whatever and particularly to Victoria, Queen of Great Britain & Ireland". Although he wrote his memoire in 1897, Cornelius made no reference to his life after his move to Richmond other than to say that he was happy that the 5 surviving children of his second marriage were 'all in the faith' and that one of them, identified as 'R C T' and presumed to be Reuben Cornelius Traveller, had been thought worthy to fulfil a mission to England. Cornelius expressed a hope that he would live to see this son return. Reuben had returned to Utah by 1910, but it is unknown whether he had returned before his father died in 1904; he did, however, marry in 1901, probably in Utah.

Mabel Pond, a granddaughter of Cornelius, born in 1895 and who lived until 1991, added some additional notes to her grandfather's memoire some 66 years later and provided a few extra details of his life after 1864. It would seem that Cornelius was reasonably well off, owning property and land in Richmond while continuing to work as a furniture maker. Mabel recorded that he had also been the post master for seven years from 1880, being appointed during the presidency of Rutherford Hayes, and that he was the City Sexton in charge of the cemetery for several years; as such, he merited a prized corner plot in the cemetery when it came to his turn. Mabel did not say, though it is recorded elsewhere, that Cornelius was a High Priest of the Mormon church, City Treasurer of Richmond and a ward teacher. (see 'Utah Pioneers and Prominent Men'). Mabel did record that she recalled Cornelius as being a man of small stature but never short in character, humility, faithfulness, and good will toward his fellow men.

She also wrote that another grandchild had described him as being short, medium build, hazel eyes, rather long curly hair, white, with white whiskers and beard, and that he usually walked with his hands clasped behind him; she also said that he was English, always honoring and respecting his Native land, presumably notwithstanding the oath he had taken in 1867.

Cornelius Traveller died in Richmond, Utah, on 8th January 1904, aged 84. He had led a long, eventful and fruitful life, though tinged with the sadness of losing his first wife and 5 children; he nonetheless left many happy memories as well as a plethora of descendants. All in all, he seems to have been quite a character.

The children of Cornelius Traveller and Ann Eliza Atkins

Sarah Ann : Born 19th October 1841 in Marylebone, London, England; married William James Coult in Philadelphia, USA, 23rd March 1859; died 9th June 1911 in Salt Lake City, Utah.

Cornelius John : Born 26th February 1844 in Marylebone, London, England; died 21st August 1848 in Marylebone, London, England.

Jane Caroline : Born 11th November 1846 in Marylebone, London, England; married Peter Christian Christensen in Utah, USA, in March 1865; died 3rd May 1914 in Richmond, Utah, USA.

Mary : Born 1st October 1849 in Marylebone, London, England; died 8th February 1850 in Marylebone, London, England.

Amy : Born 16th November 1851 in Acton, Middlesex, England; died 23rd May 1854 in Bethnal Green, London, England.

The children of Cornelius Traveller and Frances Hobbs

Lorenzo T : Born 19th February 1856 in Philadelphia, USA; died 25th June 1858 in Philadelphia, USA.

Frances Lucy : Born 31st October 1858 in Philadelphia, USA; married James Warren Hendricks 13th January 1876 in Logan, Cache, Utah, USA; died 7th May 1923 in Richmond, Cache, Utah, USA.

Franklin Hobbs : Born 6th December 1859 in Philadelphia, USA; married Mary Ann Webb 15th March 1883 in Salt Lake City, Utah, USA; died 7th January 1955 in Richmond, Cache, Utah, USA.

Emily Elizabeth : Born 28th November 1862 in Salt Lake City, Utah, USA; married William H Hendricks 11th December 1879 in Utah, USA; died 6th May 1954 in Logan, Cache, Utah, USA.

Walter James : Born 24th February 1866 in Richmond, Cache, Utah, USA; died 13th January 1867 in Richmond, Cache, Utah, USA.

Reuben Cornelius : Born 7th February 1870 in Richmond, Cache, Utah, USA; married Margaret Regina Hogan 16th October 1901; died 8th June 1918 in Richmond, Cache, Utah, USA.

Mildred Caroline : Born 25th December 1873 in Richmond, Cache, Utah, USA; married Christopher John Olsen 16th October 1895 in Logan, Cache, Utah, USA; died 21st November 1962 in Firth, Bingham, Idaho, USA.

Note :

The above is taken from a number of sources, some of which may not be wholly accurate. Information regarding the lives of Cornelius Traveller and Ann Eliza Atkins and their children is largely sourced from original records; information regarding the children of Cornelius' second marriage is mostly obtained from genealogical websites, most notably 'FamilySearch.org'. Cornelius' memoire of 1897 is a transcription of a handwritten document, the original of which is understood to be with family members in the USA.